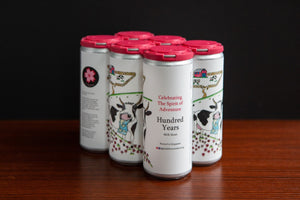 MILK STOUT
5.5% ABV, 330ml per can.
Sweet stout with coffee and chocolate aroma and flavor. By design, this stout is full bodied but perceived to be much lighter in body.
Contains lactose. Does not contain coffee or chocolate.
CELEBRATING THE SPIRIT OF ADVENTURE
We are never too old for adventures.
Adventures do not always put our lives at risk. The biggest adventures in life often begin when we take a small step out of our comfort zones and embrace the experiences which follow.
Try something new, take the path less travelled and see the world from a different perspective. Embrace the spirit of adventure because it gives us the option to experience diversity and beauty from something ordinary.
If you only have a hundred years to live, why not try something new? It may pleasantly surprise you.